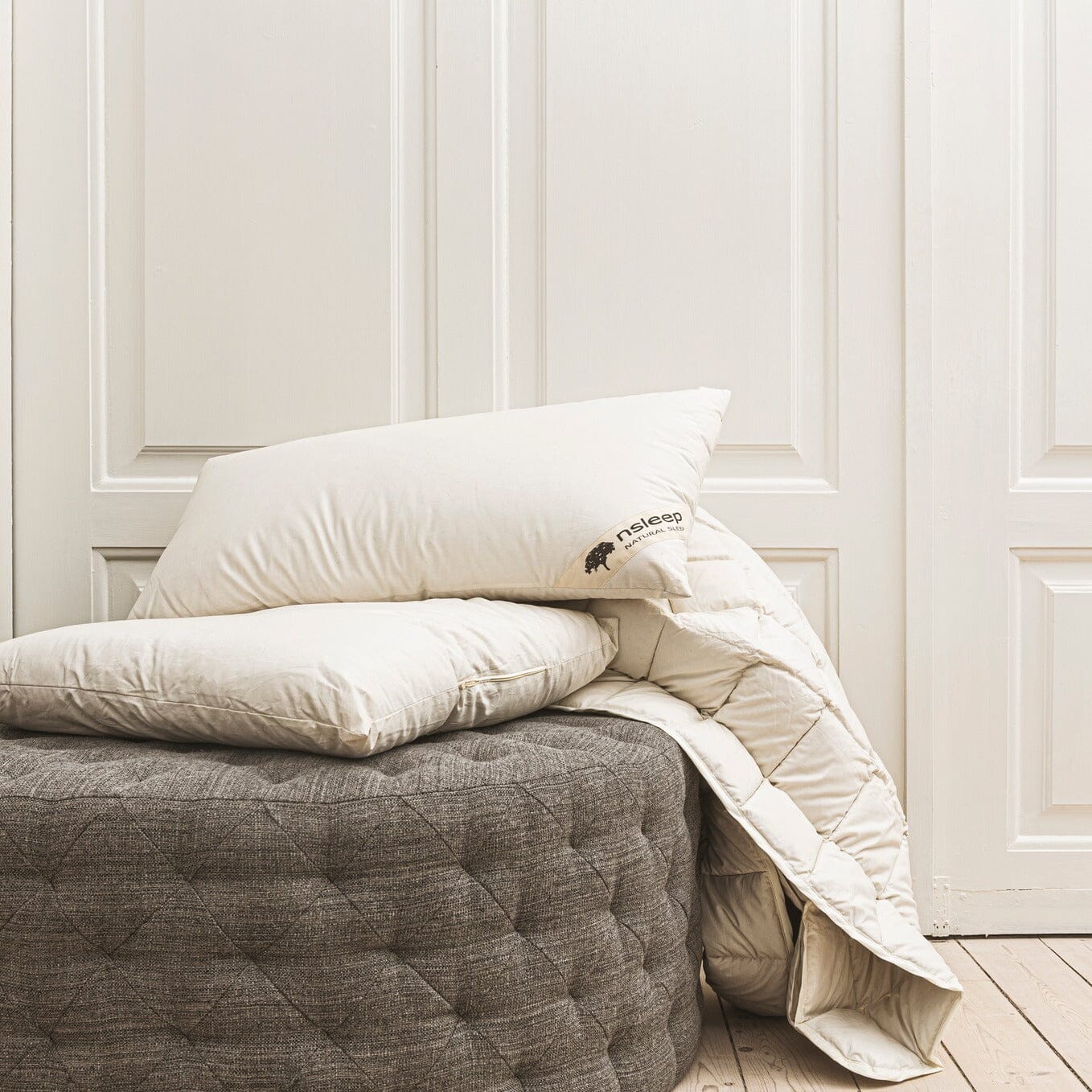 Kapok Puder
Hos Suztain har vi valgt at have det bedste. Derfor har vi valgt nsleeps kapok hovedpuder så du kan være helt sikker på at få de bedste betingelser for et godt sovemiljø og en uforstyrret nattesøvn.
Med kapokfibrene får du nemlig en allergivenlige, svedtransporterende og støttende hovedpude. Du kan desuden justere pudens højde, så den passer helt perfekt til dig.
Hovedpude i økologisk kapok 
Når det er blevet tid til at sove og finde sig godt til rette på hovedpuden, optimerer du muligheden for en god nats søvn.
Du kender sikkert, at hovedpuden ikke passer helt perfekt i højden, eller at du måske oplever lidt irritation i mund og hals på grund af husstøvmider. Det slipper du helt for med en af nsleeps kapokpuder.
Med en økologisk kapokpude kan du se frem til den bedste nattesøvn, hvor din hovedpude lader krop og sind slappe af.
Er en kapok pude allergivenlig? 
Den økologiske kapok i hovedpuderne er allergivenlig, og det er afgørende for dig, hvis du vil passe godt på dig selv.
Kapokfibrene suger nemlig ikke fugt, det er dermed umuligt for husstøvmider, bakterier og skimmelsvamp at leve og formere sig i din pude.
Har du husstøvmideallergi, vil du derfor opleve en mærkbar forskel med det samme og blive fri for irritation i svælget.
Slut med at sved omkring nakken
Rigtig mange har udfordringer med at komme af med varmen om natten, særligt omkring hoved og nakke i løbet af natten. Det kan være slut nu.
Kapokfibrene i nsleeps kapok hovedpuder er svedtransporterende, og leder effektivt sveden væk fra nakkeregionen. Du vil derfor altid have den rette temperatur omkring nakke og hoved i løbet af natten.
Kapokken er også isolerende, hvilket giver dig en lun hovedpude på de køligere dage. Alt i alt er kapok et godt valg når det er både koldt og varmt.