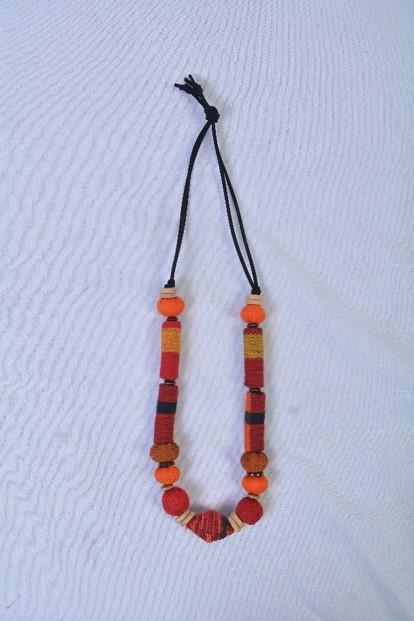 In stock & ready for shipping (1-3 business days)
Vi always ship using sustainable packaging
very beautiful iconic necklace from Selyn (adjusted to EU)
Selyn Fairtrade Fashion out of Sri Lanka is an amazing story about lawyer and passionist Sandra Wandurgala, who started a fashion business at home in her garage years ago.
Fifteen women were involved in jewelry making from the start. The mission was to provide decent salaries for Sri Lankan women. Women in Sri Lanka may be at risk and a proper salary can significantly reduce the exposure.
Selyn now has a network of employees of over 1000 people. Sandra's daughter Selyna is the next generation in the company. Like in Sandara, the passion for Fairtrade and women's community position also glows in Selyna.
Selyn Fairtrade Fashion is upcycling that rocks! The beautiful and brightly colored jewelry is made from recycled materials like recycled textile fibres, recycled paper, terracotta, recycled metal cords etc.
The brightly colored necklaces are complimented by bangles in bright happy colors.
Best of all - when you wear a Selyn piece of jewelry, you take an attitude complimenting the colorful joy of life displayed by the jewelry. An attitude in favor of Upcycling, an attitude in favour of equality and an attitude whereby you made a difference with your purchase
THANK YOU for joining us.
This necklace has a length of 38 cm. It is the closest we can get to the one on the photo due to EU regulations for the metal that was used in the original