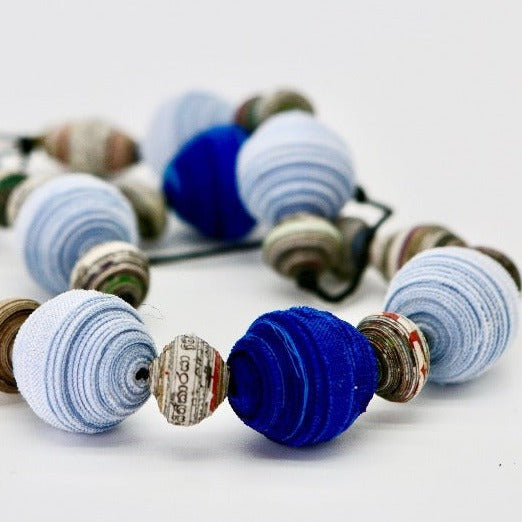 In stock & ready for shipping (1-3 business days)
Vi always ship using sustainable packaging
Handwoven Handmade Necklace in gorgeous ocean colors of Blues.  53cm long.
Jewelry with a conscience from Sri Lanka made by rural artisans.  PETA Approved Vegan and Free Trade Fashion you will feel proud to wear while looking fabulous
Necklaces can consist of ceramic beads, wood beads, paper beads and remant fabric beads on adjustable cord or string fastened by tying.


ABOUT THE BRAND:
Selyn Fairtrade Fashion out of Sri Lanka is an amazing story about lawyer and passionist Sandra Wandurgala, who started a fashion business at home in her garage years ago with only a handfull of women. Today, Selyn has more than 1000 artisans and is lifting the lives of rural Sri Lankans and continuing the long and lusterious heritgage of textile weaving in Asia.
The mission was to provide decent salaries for Sri Lankan women. Women in Sri Lanka may be at risk and a proper salary can significantly reduce the exposure.
Selyn Fairtrade Fashion is upcycling that rocks! The beautiful and brightly colored jewelry is made from recycled materials like recycled textile fibres, recycled paper, terracotta, recycled metal cords etc.
The brightly colored necklaces can be complimented by wrist bangles in bright happy colors (sold Separately).
Best of all - when you wear a piece of Selyn jewelry, you state an attitude complimenting the colorful joy of life displayed by the jewelry. An attitude in favor of Upcycling, an attitude in favour of equality and an attitude whereby you made a difference with your purchase


NOTE: screen colors can vary, but should be close. Each piece of jewelry is handcrafted so small details will be difference in each piece. All necklaces are on a cord that is adjustable to make small or larger as the beading allows.