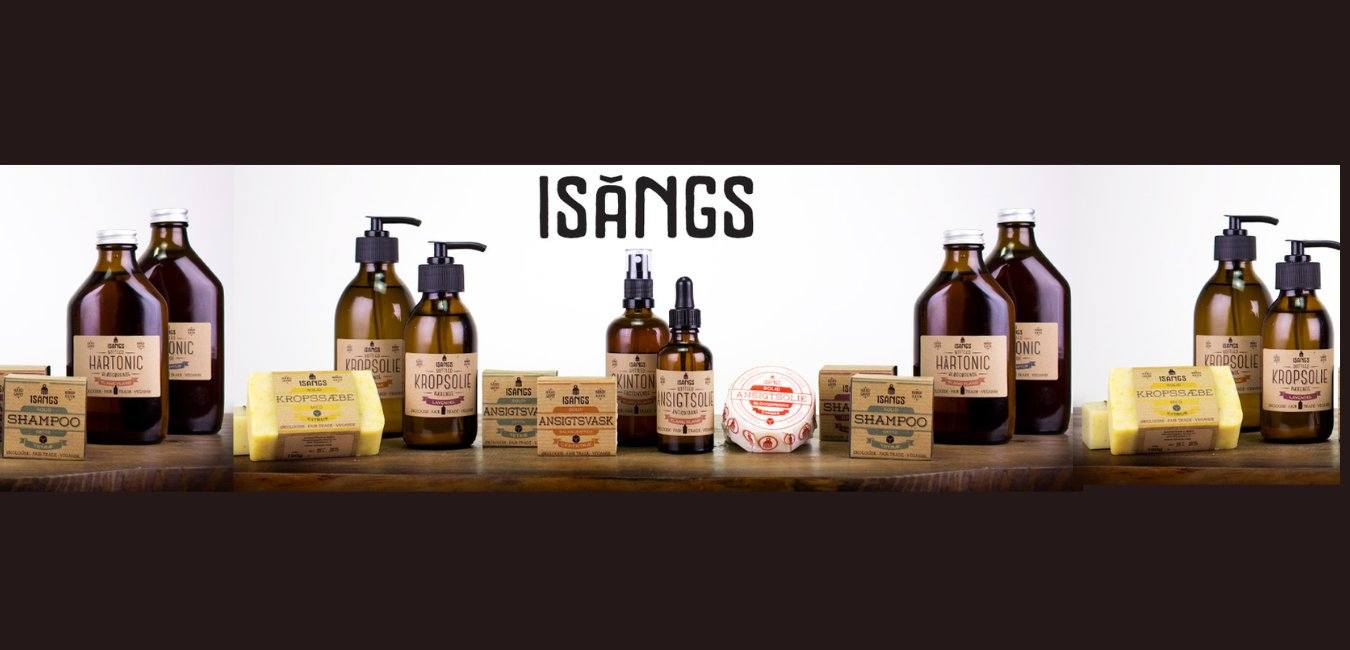 Isangs
Isangs is a Danish company located in the middle of Copenhagen. They create quality hair and body care products such as shampoo bars, Safety Razor, cream deodorants, face masks and beard oils.
Isangs sæber & barbergrej
Isangs sæbebarer er 100% naturlige og økologiske, og så indeholder de alle forskellige, lækre ingredienser. Detox shampoobaren indeholder de lindrende ingredienser teatree og neem olie som beroliger hovedbunden og renser håret for rester af styling produkter. Den blødgørende shampoobar tilfører ekstra fugt til hår og hovedbund, og den skånsomme shampoo renser blidt håret og bevarer dets naturlige fedtlag. Derudover kan du finde skønne sæbebarer til ansigt og krop, der alle har fantastiske plejende egenskaber.
Vi er super begejstrede for Isangs klassiske dobbeltsidede skraber - den er en følgesvend for livet! Denne model er udstyret med en lukket kam, som reducerer risikoen for, at man skærer sig eller får rifter af barberingen. Barbersæben tilfører huden fugt, samtidig med at den er antibakteriel og sammen med barberkosten danner et langtidsholdende skum! Alt du skal gøre er at tage både barberkost og sæbe under den varme hane og derefter børste sæben, indtil der sidder ønsket mængde sæbe på barberkosten.
Creme deodoranter fra danske Isangs
Her får du naturlige creme deodoranter som er helt fri for aluminium. De er drøje i brug og deres indhold af enten magnesium eller natron beskytter mod dårlig lugt. Du kan vælge mellem fire varianter, der alle er lette at smøre på. Alt du skal gøre er, at smøre en mængde tilsvarende en fingerspids af deodoranten i et jævnt tyndt lag under hver arm.
Sådan blander du en ansigtsmaske
Den antioxiderende ansigtsmaske indeholder kakaopulver, nærende tang og granatæble ekstrakt. Den opfrisker og fornyer huden og renser i dybden med både vitaminer og mineraler.
Detox masken bekæmper bakterier og er derfor perfekt til uren og fedtet hud. Masken er dybderensende og indeholder vitaminer og mineraler. Den er lavet med masser af aktivt kul, anti-mikrobiel neem, og havtorn ekstrakt.
Sådan gør du: Opbland 1 tsk. pulver med 2 tsk. vand så du opnår en konsistens der minder om yoghurt. Påfør ansigtet og undgå at få det i øjnene. Giv masken 1-5 minutter til at trænge ind og rens den derefter med vand

Olier & cremer
Isangs har også et stort udvalg af lækre cremer til både kroppen og ansigtet. kropscremerne er særligt velegnede til tør hud på grund af deres indhold af enten shea eller kakaosmør. Creme har mange naturlige fugtighedsbevarende egenskaber som plejer selv den mest tørre hud, så den forbliver smidig og fugtet hele dagen. De oliebaserede ansigtscremer tilfører huden fugt, så den føles smidig og dejligt blød. Cremerne kan benyttes som både dagcreme, natcreme, som øjencreme eller til behandling af meget tør hud.
Isang har en masse forskellige naturlige olier til både krop, ansigt og skæg. Den plejende kropsolie absorberes nemt af huden, hjælper med at bevare den naturlige fugt og opretholder hudens elasticitet. Den er også idéel som massageolie. Ansigtsolierne reducerer inflammation, blødgør huden og absorberes let uden tilstopning af porerne. Huden efterlades blød og smidig.
Skægolierne indeholder alle jojobaolie og er derfor perfekt pleje til stride, tørre skæghår. Ved at bruge en skægolie, sørger du for at dit skæg er blødt hele dagen - specielt velegnet hvis du har fuldskæg.