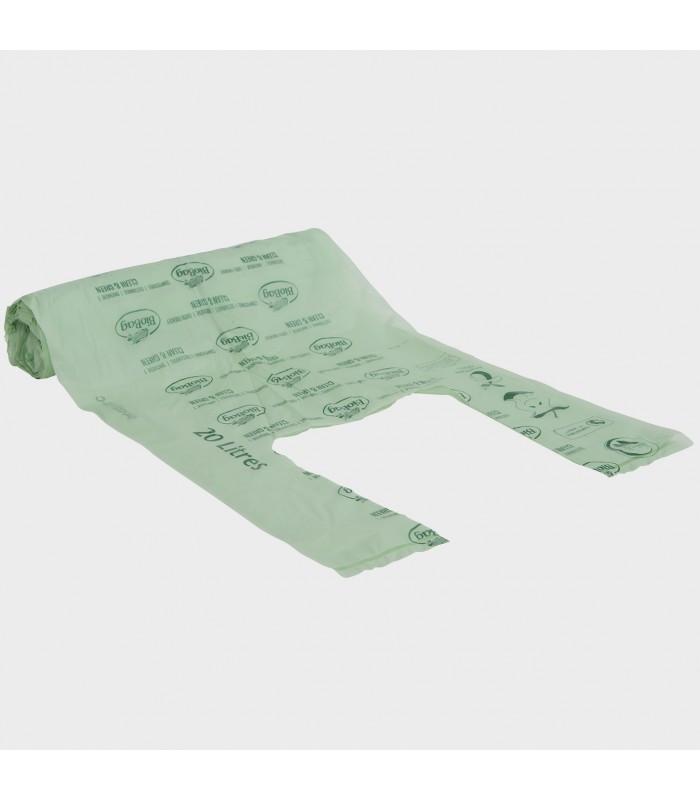 In stock & ready for shipping (1-3 business days)
Vi always ship using sustainable packaging
Fully compostable bags for biowaste and general purpose. Produced in Norway
Impact
Description
BioBag
Waste bags are one of the great plastic pollutants in the everyday life.

The BioBag bags are made from fossil but also natural ingredients, predominantly corn starch.

The City of Copenhagen has chosen Biobag bags as the most environmentally friendly bag.

A new study from the Danish Technological Institute from May 2018 shows 70% fossil content in BioBag. In the production of BioBags, natural gas is used which constitutes the fossil content. It is important to understand that this does not mean that BioBags is not environmentally friendly. When BioBags breaks down, only water, CO2 and humus are left behind. BioBag works constantly to increase the content of renewable resources and make it available at a reasonable price.

20 Liter bags from BioBag are suitable for traditional waste bags
BioBag bags are compostable, therefor they only have a shelf life of 18 months. At a price of less than one DKK per piece, you can make a lot of effort against the daily plastic waste - and keep your trash clean.

If you also use the MaxAir bucket, you ensure that your bio-waste does not produce bad odors. It can "breathe" into the bucket because BioBags can also.

The roll contains 25 bags and is produced in Norway with maximum environmental considerations

OBS !! Note you must NOT dispose of compostable bioplastic with your normal plastic waste. Compostable plastic contaminates the recyclable plastic and can make the entire plastic collection completely useless for recycling.

OBS !! All bioplastic, also compostable bioplastics, should as a rule be disposed of as combustible waste.