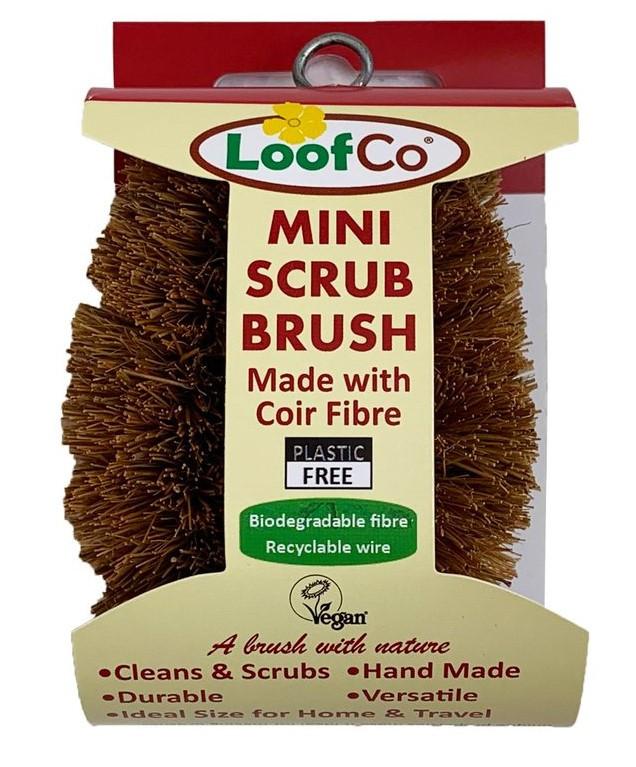 In stock & ready for shipping (1-3 business days)
Vi always ship using sustainable packaging
perfect scrubber for kitchen use. Very durable, easily outlasts plastic products
Impact
Description
LoofCo
LoofCo Mini-Scrub Brush is a small yet robust brush that is perfect for scrubbing sinks, chopping boards, pans and getting into corners. Great size for camping too. Skilfully hand-made in Sri Lanka from coir coconut fibre wrapped around a galvanised metal core that will not rust. A recyclable alternative to plastic washing-up brushes. Each durable brush will last for months and when worn out can be recycled. Each brush measures 8cmx 5.5cm with a convenient metal hanging hook. After use, hang to dry from the convenient metal hoop.
LoofCo labels: FSC responsibly sourced card/ plant-based inks/ compostable cellulose stickers.
How to use: How to use: Rinse thoroughly before first use. Immerse in warm water and use with detergent or water alone. After use, rinse well and squeeze out excess water and hang to dry from the metal loop. The galvanised metal core will not rust.
Country of Origin: Sri Lanka
Materials: coconut fiber, recycled metal,
Environment: saves 35 grams of plastic compared to a normal plastic dish brush
Recycling : dispose with recycled metal
Animal content: none
transport: sea freight
Social Responsibility: Family farms in Sri Lanka Villages