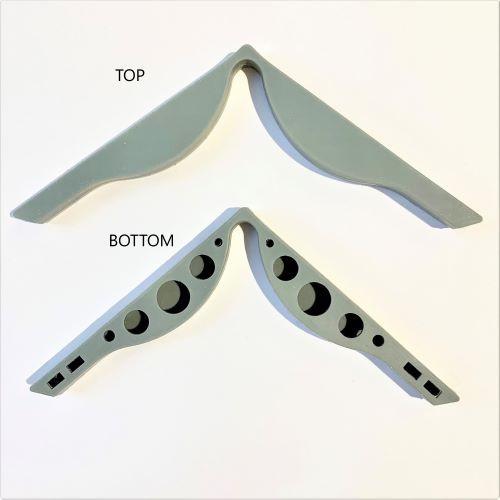 In stock & ready for shipping (1-3 business days)
Vi always ship using sustainable packaging
This Reusable Silicone Nose Bridge helps in eliminating or reducing the annoyance of having your eyeglasses fog up when wearing a face mask.
Made of nearly skin-soft silicone, they fit comfortably across the bridge of your nose under your mask. Its unique air channels redirect your breathe out towards the sides of your mask aiding in reducing fogging of your eyeglasses.
Works with single-use N95 and Type IIR masks as well as reusable masks.
Impact
Description
GreenGenius
In times when proper personal and community safety precautions direct us to wear a face mask, those who wear eyeglasses have found it frustrating and challenging to have their glasses constantly fogging up. Resulting to a less effective face shield becoming an exception for use.
So how do eyeglass wearers get the same effective protection face mask wearers get? This Reusable Silicone Nose Bridge may help as they can be worn under the face mask of your choosing that redirects your breadth out the sides of your mask away from your eyeglasses.
How does it work?
Its cleaver design has hollow air channels built in its bottom and through its sides. These hollow channels in the nose bridge allow your exhaled breath to be redirected from up and out the top of your mask which fogs your eyeglass to now up and toward the sides of your mask reducing eyeglass fogging.
Instructions for Optimal Placement and Use:
Place your Reusable Silicone Nose Bridge across the bridge (that's the center part) of your nose with its wings laying flat out just across your upper cheek area.
Put on your face mask as usual, readjusting as needed to ensure the nose bridge sits just inside the upper part of your face mask creating a snug fit effectively sealing air from escaping the top of the mask.
If your eyeglasses touch your mask, ensure they sit on the outside of your mask.
Breathe normally.
Care:
Wash with hot soapy water after use and allow to air dry. Reusable.
NOTES:
While the nose bridge does work with all mask types, we have found they work significantly better with our Type IIR surgical masks that have a strong metal nose strip that can be shaped to the Nose Bridge for the closest fit which not only forms to the top of the mask best but also holds the Nose Bridge in place better.
Just like when you do not use a Nose Bridge, our Reusable Silicone Nose Bridge will not help prevent your eyeglasses from fogging up due to sudden temperature changes – like when entering and exiting buildings or buses during colder or warmer weather conditions.
PERFORMANCE:
The Reusable Silicone Nose Bridge can eliminate all fogging of eyeglasses when we have tested it with regular nose breathing using a Type IIR Mask. When we have tested it with the same mask while regular mouth breathing, we found very little to no fogging where we could readily function and wear both our glasses and mask without any challenge.
However, while using the Nose Bridge with the Type IIR Mask while heavy mouth breathing or forcing out quite a bit of air while exhaling, we did experience moderate fogging to our eyeglasses that required us to either pause more often and wait for it to clear or refocus ourselves to a more relaxed breathing manner.